Eighth Grade Students' Knowledge of Key Biotechnology Concepts
Keywords:
Biotechnology, Biotechnology and Genetic Engineering, 8th grade students, Quasi-experimental study, STEM education, Survey
Abstract
The aim of this study was to examine whether the students ' understanding of the concepts related to biotechnology in the elementary eighth grade curriculum had anything to do with gender and school differences. The sample of this study, in which the semi-experimental pattern is used, consists of 100 eighth grade students studying at Maltepe secondary school and Uluönder Secondary School in the central districts of Ankara province in the 2018-2019 academic year. The data were collected through the Biotechnology Information Survey prepared by the researcher. The Cronbach alpha reliability coefficient of the data collection tool used was calculated as 0.737 and it was determined by expert opinion that its reliability was sufficient. Two independent samples T-tests were used to analyze the data obtained. The data collection tool was applied to the groups in the form of a final test after the subject was processed. According to the results of the analysis, there was no significant difference between school variables. It was found that there was no significant difference in the understanding of Biotechnology concepts of students in schools located in different regions. In addition, when the student answers obtained from the Biotechnology Information survey were examined, it was revealed that the students had incomplete and incorrect information about biotechnology.
References
Akkaya, A., & Pazarlıoğlu, N. (2017, January 9). 21. yüzyılın anahtar teknolojisi: Beyaz biyoteknoloji (Key Technology of 21st Century: White Biotechnology). Hidropolitik Akademi https://www.hidropolitikakademi.org/tr/article/15449/21yuzyilin-anahtar-teknolojisi-beyaz-biyoteknoloji
Altun, A., Çelik, S. & Elçin, A. E. (2011). Genetik mühendisliği, biyoteknoloji ve moleküler biyolojiyle ilgili rehber materyallerin öğrenci başarısına etkisi (The effect of guiding materials related to genetics engineering, biotechnology and molecular biology on the success of students). Hacettepe Üniversitesi Eğitim Fakültesi Dergisi, 40, 21-32.
Bilen, K., & Özel, M. (2012). Gifted Students' Knowledge of and Attitudes toward Biotechnology. Necatibey Eğitim Fakültesi Elektronik Fen ve Matematik Eğitimi Dergisi, 6(2), 135-152.
Çelik, O., & Erişen, S. (2010). Ortaöğretim düzeyinde biyoloji dersi kapsamında uygulanan biyoteknoloji programının değerlendirilmesi. Gazi Üniversitesi Endüstriyel Sanatlar Eğitim Fakültesi Dergisi, 26, 25-39.
Darçın, E. S. (2007). Fen-teknoloji ve biyoloji öğretmen adayları için biyoteknoloji eğitiminin deneysel planlanması (Experimental planning of biotechnology training for trainee science-technology and trainee biology teachers). Unpublished doctoral dissertation. Gazi University: Ankara, Turkey.
Demirci, M., & Yüce, Z. (2018). Biyoteknoloji ve genetik mühendisliği konusunun öğretiminde 8. Sınıf öğrencileri için dersin deneysel planlanması (The experimental planning of a course for teaching biotechnology and genetic engineering to 8th grade students). Sakarya Üniversitesi Eğitim Fakültesi Dergisi, 35, 87-108.
EFB (1999). Environmental Biotechnology, European Federation of Biotechnology Task Group on Public Perceptions of Biotechnology, Briefing Paper No: 4.
Garrett, S. (2009). Professional development for the integration of biotechnology education. Unpublished master's thesis. Queensland University of Technology, Australia.
Kılınçcıoğlu, A., Atıcı T., & Gündüz, A. (2017). The Level of Ability of 8th Science and Technology Syllabus to Raise Interest of Students towards Biotechnology. Third International Congress on Education Sciences and Learning Technology (ICESLT) No: 3794053, Greece.
Semederoğlu, D., & Aydın, H. (2014). Öğrencilerin Biyoteknoloji ve Genetik Mühendisliği Konularını Kavramsal Anlamalarına Yapılandırmacı Yaklaşımın Etkisi (The Effect of Constructivist Approach on Students' Conceptual Understanding of Biotechnology and Genetic Engineering Topics). Turkish Studies - International Periodical for the Languages, Literature and History of Turkish or Turkic, 9(8), 751-773.
Sinan, O. (2015). Öğrencilerin Biyoteknoloji İle İlgili Bilgi ve Tutumların Farklı Değişkenlere Göre İncelenmesi (An Investigation of Students' Knowledge and Attitudes Related to Biotechnology According to Different Variables). Yüzüncü Yıl Üniversitesi Eğitim Fakültesi Dergisi, 12(1), 183-201.
Soetaert, W., & Vandamme, E. (2006). The impact of industrial biotechnology. Biotechnology Journal, 1, 756–769. DOI 10.1002/biot.200600066
Thieman, J.W., & Palladino, A. M. (2013). Biyoteknolojiye giriş (Introduction to Biotechnology) (Translated by M. Tekeloğlu). Ankara: Palme.
Üstün, Ç., & Demirci, N. (2106). Biyoteknoloji, tıp ve etik (Biotechnology, medicine, and ethics). Ege Tıp Dergisi/Ege Journal of Medicine, 55(3), 158-162.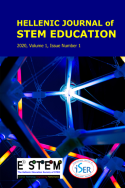 How to Cite
Atıcı, T., Atasoy, B., Taşar, M. F., & Taflı, T. (2020). Eighth Grade Students' Knowledge of Key Biotechnology Concepts. Hellenic Journal of STEM Education, 1(1), 33-42. https://doi.org/10.12973/hjstem/011030
Copyright (c) 2020 Tahir Atıcı, Burçin Atasoy, Mehmet Fatih Taşar, Tuğba Taflı
This work is licensed under a Creative Commons Attribution 4.0 International License.
The copyright of articles published in the Hellenic Journal of STEM Education belong to the authors.
Published articles are subject to Creative Commons Attribution 4.0 International license.